Cello Gracino Model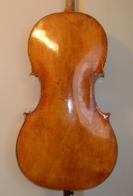 Cello Gracino Model by Pablo Alfaro. Cello Gracino Model by Pablo Alfaro.
About Us
ALFARO VIOLINS, LLC
Alfaro Violins was founded in 1997 in Xalapa, Mexico by its owner and President Pablo Alfaro. Nine years later, in 2006 the shop relocated to the Atlanta area, wich is now considered a Premier violin shop specialized in Repairs, Restoration, Violinmaking, Sales, Appraisals and Rentals. In 2022, Alfaro Violins, LLC, was the South East USA Prestige Award winner for Instrument Repair Specialist of the Year in Georgia.
Our goal is to provide service and expertise at the highest level, our reputation for setup and tone adjustments, precedes us.
Pablo Alfaro
The Violin Maker
Pablo Alfaro graduated from the Taller de Laudería at the Universidad Veracruzana in Xalapa, in addition he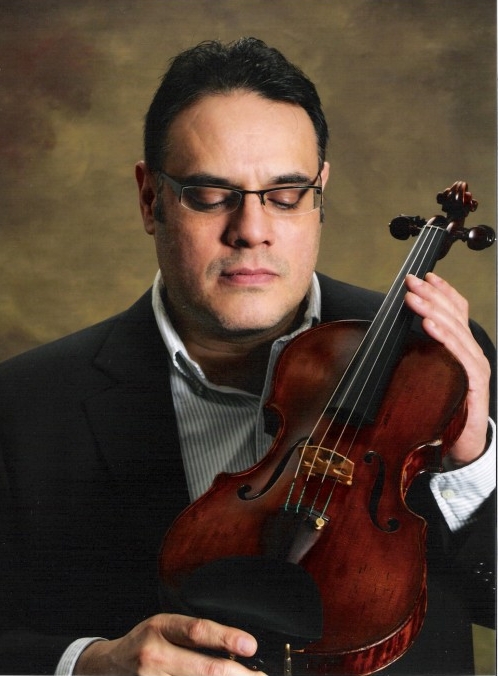 attended the advanced program of specialization with Gary Vessel in Utah, USA. Pablo Alfaro has received 57 awards in violinmaking competitions including 19 Gold Medals and 19 Silver Medals. In 2009 Pablo Alfaro was the Grand Champion Contest Winner of the Bob Wallace Memorial Award.
Mr. Alfaro is a member of the AFVBM (American Federation of Violin and Bow Makers), past member of the Board of Governors as well as conference speaker. As a member of VSA (Violin Society of America) Pablo attends the Oberlin workshops every year and has been a conference speaker for VSA Conventions. Pablo is a former President of VMAAI (Violin Makers Association of Arizona International) and President of SVA (Southern Violin Association). Pablo received tutelage from great masters as Rene Morel, Hans Nebel, Jerry Pasewicz and Chrs Germain among others. In addition Pablo Alfaro has been a tone, varnish and workmanship judge as well as a conference speaker for VMAAI and SVA.
Mr. Alfaro has been a contributor for The Strad Magazine among other publications and journals.
Pablo Alfaro has been a faculty member for the Universidad Autonoma de Puebla's International Music Festival, the Florida International University's "Animato" Music Camp and the "Orchestral Studies for Musical Studies" at Reinhardt College in Georgia, the Nessonvaux Festival in Belgium and at the EMBA Summer Festival in Veracruz and Festival Internacional de Musica de Queretaro. Pablo Alfaro was appointed as principal technician and foreman for five consecutive years at Summerhays Music Center in Utah. Also Pablo joined the staff of Williams Gengakki Violins in Atlanta, GA as a restorer for one year. Currently Mr. Alfaro works in his own shop "Alfaro Violins, LLC" in Decatur, GA restoring fine old instruments, as well as creating new violins, violas and cellos.
The Violinist
Pablo Alfaro attended the Academie de Musique Gretry in Belgium, winning first place at the violin competition of that organization. Pablo Alfaro also studied at the National School of Music (UNAM) in Mexico. Pablo Alfaro got the scholarship that O.A.S. granted to Latin America to the Interlochen Festival, Michigan, USA.
It is important to mention that Pablo Alfaro was a winner of the First National Competition for young soloists organized by the UNAM. He has been a member of the Mexico National Symphony Orchestra, Mexico City Philharmonic, State of Mexico Symphony Orchestra, Toluca Chamber Orchestra (where he was concertmaster for seven years) and the SEC String Quartet in Xalapa. Pablo Alfaro has been invited to collaborate with the Gretry String Quartet giving concerts in diverse cities of Belgium. Also Pablo Alfaro has been a judge for Band and Orchestra Competitions in Mexico and USA.
Pablo Alfaro has been soloist of several orchestras in Mexico and USA. Pablo was concertmaster of the Taylorsville Symphony Orchestra in Utah as well as concertmaster of the Atlanta Community Symphony Orchestra. USA. Pablo Alfaro has performed in Mexico, Porto Rico, Belgium, Spain, China and the USA. Pablo attended to master classes by Leon Spierer, Gil Shaham and Juan Ramirez.
The Artist
Pablo Alfaro is self-taught and has presented eleven collective exhibitions in Mexico and two individual exhibitions in Mexico and the USA. Pablo has made more than one hundred twenty works. As caricaturist, Pablo has made around three hundred.
In 1976 Pablo Alfaro received the Diplome of Honor and Medal granted by "L'Ordre de la Courtoisie Francaise", Organization that exalts ethical, moral and social values.