Cello Gracino Model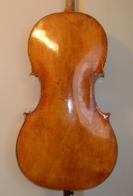 Cello Gracino Model by Pablo Alfaro. Cello Gracino Model by Pablo Alfaro.
Services
Sales
Alfaro Violins' inventory includes student and professional level violins, violas, cellos and bows. Please contact Alfaro Violins for a list of instruments currently available. Click here to view Pablo Alfaro instruments and The Alfaro Violins' Collection
Repairs, Restoration and Tone Adjustment
(click for fotos):
Alfaro Violins offers high quality repairs and artistic restoration for violins, violas and cellos. Pablo Alfaro's tone adjustments get the full potential of any instrument.
Consignments
Alfaro Violins' consignment agreement applies 20% commission with the exception of high price range instruments or bows.
Appraisals
a) Insurance Appraisal evaluates the replacement value of an instrument or bow and includes a full description of the item.
b) Verbal Appraisal describes an overall idea of the item as is.
Consultation
Schedule an appointment to get a second opinion if you are looking to purchase an instrument or bow from a different source. Half an hour consultation service rate will apply.
Getting your restoration estimate is free.
Lectures
(click for fotos):
Pablo Alfaro frequently offers seminars and lectures to students, musicians, and violin makers. For more information, please contact Alfaro Violins.